This is the online callboard for Theatre at Plymouth State University. This is a separate website than https://www.plymouth.edu/.
You might need to register or log in to this site in order to use some functions.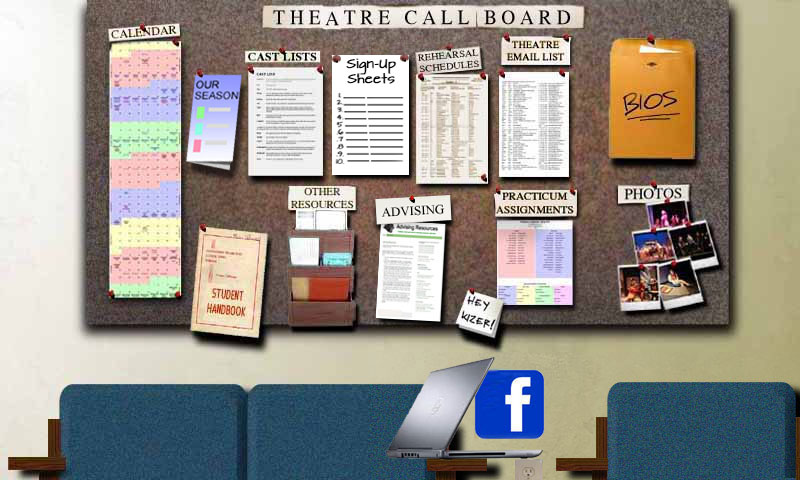 ↓ Recent Posts ↓
May 6, 2023

War of the Worlds: The Panic Broadcast Cast Calle Bisaillon– Jake Laurents, Orson Welles, Narrator, & Professor Pierson Cicely Richardson– Freddie Filmore Daniel Sleeper– Dan Seymour, Carl Phillips, Secretary of the Interior, Father, & The Boston Globe Newsboy Sorchae McMeel– Lana Sherwood, Ora Nichols, 22nd Field Artillery Officer, Wife, Sylvia Homes, & Jingle Quartet Singer Michael Aviles Bramer– Howard Koch, ...

April 26, 2023

All Theatre Majors! Please sign up for an end-of-year jury. Juries are short sessions where each major demonstrates some of the work or skills they have accumulated at this point in their time at PSU. We will give feedback and discuss progress and plans for each student as a part ...

April 18, 2023

Fall 2023 Auditions for War of the Worlds: The Panic Broadcast & Godspell May 2-May 4, 2023. All auditions and callbacks are taking place in the Smith Recital Hall Instructions: Please sign up for one five-minute audition slot on the 'sign-ups' tab on the callboard and fill out the audition form linked below by noon on Tuesday, May 2. There will be a ...

April 11, 2023

War of the Worlds: The Panic Broadcast adapted by Joe Landry Directed by Jessie ChapmanOctober 12 – 14, 2023 • Hanaway TheatreAn alien invasion throws humanity into chaos in the classic sci-fi novel The War of the Worlds–but all it took to cause real-life panic in the streets was Orson Welles's 1938 radio adaptation, which listeners took ...

February 10, 2023

https://plymouth.showportal.net/schedule/urinetown-tech-schedule/

January 4, 2023

GLIMMERGLASS FESTIVAL APPRENTICESHIP PROGRAM Now Accepting Applications for the 2023 Summer Season! The Glimmerglass Festival is a summer destination in Upstate New York where audiences from across the country and world come to experience world-class opera, musical theater, and cultural events in a beautiful, relaxing setting. We invite students and early career professionals toapply today for one of ...

November 27, 2022

URINETOWN November 29 & 30 by appointment.Prepare: Monologue and Song.https://plymouth.showportal.net/sheet/urinetown-audition-registration/ SILENT SKY November 29 & December 1 by appointment.https://plymouth.showportal.net/sheet/silent-sky-audition-registration/

November 9, 2022

We are excited that Heartland Intimacy's online, extensive training program is now live and accessible for theatre students and faculty. This is a subscription, we have it for a year, and it is amazing. Explore the self-paced modules, and get yourself educated and skilled up. Email Dr. Niki Tulk for the password details: niki.tulk@plymouth.edu.
Read more