This is the online callboard for Theatre at Plymouth State University. This is a separate website than https://www.plymouth.edu/.
You might need to register or log in to this site in order to use some functions.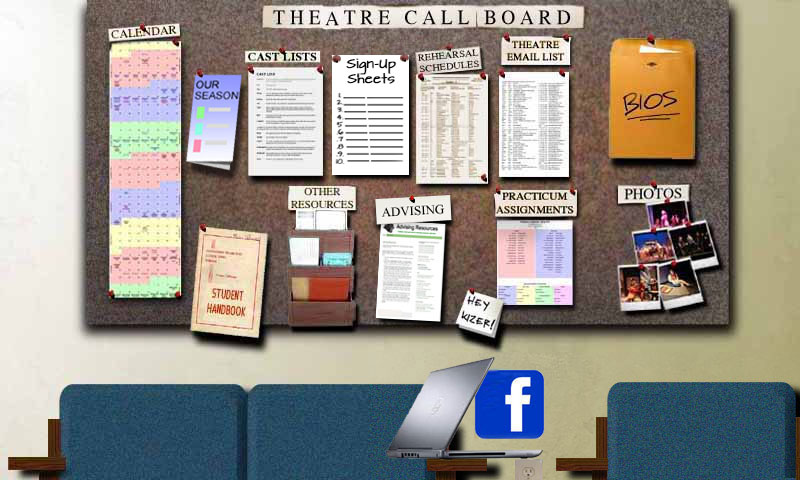 ↓ Recent Posts ↓
May 2, 2022

Please take 10-15 minutes to complete this anonymous survey by May 7. As the theatre program works to adjust our curriculum, we'd like student feedback on potential courses that are in the works. Google form link: https://forms.gle/MNAshL98WMKqD5Yx8

April 29, 2022

ATTENTION:Jean's Playhouse in Lincoln, New Hampshire is seeking to fill the following positions: Master Carpenter $350 / weekProps Master – $300 / weekScenic Painter – $300 / week Carpenter Intern – $150 / weekCostume Intern – $150 / week Contract dates differ a little with each position, but are mostly from June 27 to September 4.SOUND OF MUSIC ...

April 25, 2022

Tuesday, May 3, 2PM – 4PM Hi, all!In years past, we traditionally have held a convocation-event for the performing arts at the end of the year.  This year, we invite all Music, Theatre, & Dance students and instructors to a picnic outside Silver in the Amphitheatre area.   We hope to see you there!!!

April 13, 2022

(posting for Tim) ***Thanks to all who applied for a stage management position! Please email Tim (tlecuyer@plymouth.edu) ASAP to officially accept (or decline) these assignments.  Into the Woods SM – Blake Ellis ASM – Kayla Orthman Midnite SM – Emily King ASM – Sadie Covill Urinetown SM – Emily King ASM – To be determined Silent Sky SM – Katie Tetu ASM – To be determined

April 13, 2022

*please note if you are cast in Into the Woods we will be meeting in the Choral Room (Silver 122) during company time next week. Tuesday 4/19 & Thursday 21 3:30-5:30pm. Tuesday will just be an introductory meeting, Thursday we will be going over music splits so you can learn your music over the summer. Cast ...

April 11, 2022

Formerly known as Juries. These are intended to be a little easier for everyone to manage this year. The theatre major at Plymouth State University has a component in it that has been on hold for two years during COVID restrictions. Two years is a long time for university students. Many of you ...

April 8, 2022

https://plymouth.showportal.net/schedule/last-five-years-schedule/

March 31, 2022

Into the Woods & Midnite Date: April 12, 2022 Auditions for 'Into the Woods' and 'Midnite' will be held Tuesday, April 12. Use this form to sign up for an audition slot; note that slots after 5:00pm are reserved for Acting only auditions (no accompanist). Acting callbacks will be that evening, 4/12 from 7-8:30pm. Music callbacks ...

March 24, 2022

As sometimes happens, we suddenly had to rethink directors, calendar positions, and titles. We had a list of shows that suited the first production slot. As always, the parameters included calendar time for rehearsals, hitting important dates (such as homecoming), time to build scenery for a given show, appropriate roles to serve current students, vocal ...

March 19, 2022

The photos are online now.https://plymouth.showportal.net/archive/little-women-the-musical/

February 13, 2022

https://plymouth.showportal.net/archive/youre-a-good-man-charlie-brown-2021/

February 2, 2022

February 24 – 26, 2022 The story that you love. The music you won't forget. Based on the novel by Louisa May Alcott The original 1868 edition. Music by Jason HowlandLyrics by Mindi DicksteinBook by Allan Knee Plymouth State is proud to present this masterful work. As a Broadway musical it opened in 2005, receiving nominations for ...

January 18, 2022

Graduating Production Students Are invited to register for the Unified Professional Theatre Auditions! Deadline is January 26, 2022 to submit registration UPTA materials go live on February 4, 2022

January 14, 2022

We have had great reports from alumni about working for Glimmerglass in the past. If you are considering summer work, please take some time and look over these materials that were sent to me by Glimmerglass Production Coordinator Wyatt Nyman.

December 2, 2021

Jo March – Grace Gilbert Meg March- Maddie Anna Beth March – Lindsey Brunelle Amy March – Emily King Marmee March – Emma Molloy Mr. Laurence – Garrison Barron Laurie Laurence – Kyle Sidders Aunt March- Hanna Street Professor Bhaer- Teddy Wilkin Mr. John Brooke- Harrison Christilles Mrs. Kirk – Anna Skala Rodrigo- Aidan Lamont Thanks again to all who auditioned. The offer still stands if you ...

December 1, 2021

Thursday, December 2. 3:30-5:30pm Thank you so much to all who auditioned for Little Women. There was a tremendous amount of talent displayed, which made our job very hard. Since this is a small-cast show, our callback decisions reflect the strongest possibilities for the tight-knit ensemble we'd like to create for this production. The final cast list will be ...

November 29, 2021

The photos here tend to display at decent sizes for web-use.  Higher resolution versions are available.   Contact Matt Kizer to request higher resolution versions. https://plymouth.showportal.net/archive/the-curious-incident-of-the-dog-in-the-night-time/

November 18, 2021

LITTLE WOMEN AUDITIONS (SIGN UP FORM AVAILABLE NOW) Little Women auditions will be Tuesday, November 30 from 5:30-8:00pm in Silver room 131Callbacks & Dance Call, will be Thursday, December 2 Callbacks from 3:30-4:50pm in the Recital Hall and Dance Call 5:00-5:30 in the Dance Studio.Casting will be posted on/by December 3rd PREPARATION INSTRUCTIONS:Please prepare an approximately 1 ...

November 11, 2021

Printed 8-page programs will be distributed to audience members at the show. Printed programs include a URL and QR Code that point to the online program. The online program includes full company bios and other information and are about 24 pages long. Online Program

November 2, 2021

https://www.youtube.com/watch?v=MncBgJiv4UI Something I ran across.

November 2, 2021

Happy Tuesday! As you go through the registration process, I welcome you to consider becoming a standardized patient. This is a fantastic opportunity for you to learn how to work with pre-professionals in the medical field using your acting skills. It's a great way to make money when you're in-between gigs after college. Many teaching ...

October 20, 2021

This is the recording of the 75 minute discussion on cruise ship work. It includes in-depth discussion on the benefits and challenges of working on cruise ships, how each panelist got into this work, and many of the unexpected aspects of working in this industry. It was held between the current students of TH2100 Technology ...

October 12, 2021

Dear Matt and the Legendary P.S.U. Theatre Department,  On behalf of the entire New Hampshire Educational Theatre Guild, I would like to extend our sincerest thanks and congratulations for an incredibly successful day.  To be sure, this year had increased challenges, and your staff weathered them admirably.   I can't tell you how good it felt to walk ...

September 14, 2021

We have an online tool for maintaining and managing bios. You will find it in the menus above as well as at the link below. Please create or update your bio, and assign it to the appropriate show titles. Submit your bio here.

September 7, 2021

Scheduled: Oct 19 from Noon-1:15PM A group of about six alumni from the PSU Theatre program will be convening on Zoom. The group has extensive past and current experience working in various capacities on cruise ships. We will be discussing how to get into this work, the pros and cons, and anything else ...

September 3, 2021

Thanks so much for auditioning! As discussed in the audition process, we have not double-cast the entire show. The roles of Lucy and Sally are the only ones that are doubled. We look forward to working with all of you! – Fran, Hannah, Lisa, and Justin REHEARSALS begin the week of 9/13. To accept your role, please ...

August 30, 2021

Happy first day back! Some of you may have seen…since there is a poster up in the lobby, that the spring musical will be Little Women. I will be directing, and the illustrious Hannah Murray will be the Musical Director! The show goes up February 24-26, audition and rehearsal details will be forthcoming later in the semester. Always -Jessie Chapman

May 3, 2021

Each year at Plymouth State University, we honor our graduating seniors for their accomplishments and growth during their time in our program. For the second year in a row, we are unable to hold any kind of in-person convocation or social gathering to properly recognize these remarkable people. In lieu of our traditional ceremony, we ...

July 10, 2016

Just like a real bulletin board, anyone can post a schedule here. This will mostly be for stage managers to use. If you have a project or a scene for a class, though, you may post it here. Select + New –> Schedule. Give the schedule a logical name, such as "Music Rehearsal," or "Stage Kiss." Your ...
Read more