This is the online callboard for Theatre at Plymouth State University. This is a separate website than https://www.plymouth.edu/.
You might need to register or log in to this site in order to use some functions.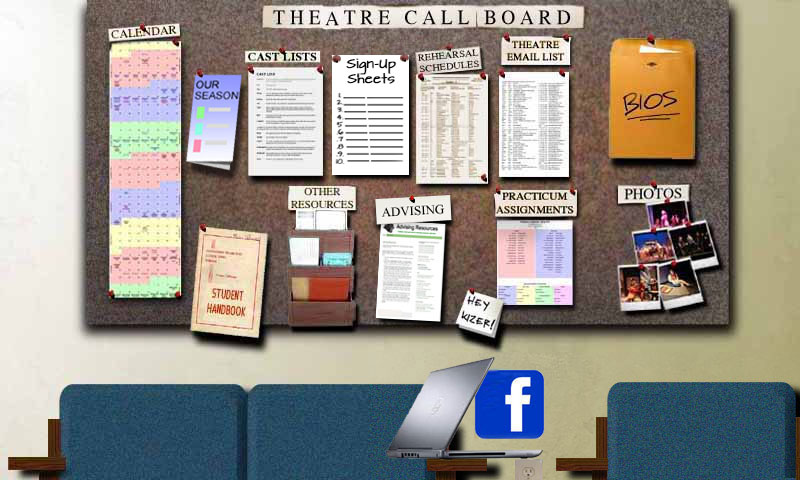 ↓ Recent Posts ↓
November 29, 2023

Congratulations to all who auditioned! We are looking forward to seeing some of you at callbacks tomorrow from 4:00-5:30PM in the Recital Hall. Please note that if you are not called back that does not necessarily mean that you are not cast. Please look for the official cast list that will be posted within the ...

November 11, 2023

The Secret in the Wings, by Mary Zimmerman. STRAIGHT PLAYElizabeth Cheney Studio Theatre, February 29 – March 2, 2024.A frightening babysitter reads from a book of obscure fairy tales. Dark and mysterious stories come to life with humor and looming disaster. Once Upon A Mattress, by Jay Thompson, Dean Fuller, and Marshall Barer. MUSICAL.Hanaway Theatre, April 11 – 13, ...

September 15, 2023

At Plymouth State, we offer a rare and pragmatic minor: Standardized Patient Training. Things you should note: It is an extremely interesting line of study that adds depth and interest to your skillset. The courses are taught almost entirely in the Silver Center for the Arts. The program is administered by Fran Page Most theatre majors take half ...

September 5, 2023

International Study-Abroad Intensive during January Break UPDATE: We recorded this session. It is available for viewing here. Tomorrow morning, Wednesday, September 6, from 10:10 to 11:25 we will be holding a panel discussion. We will be featuring performers who have attended the Gaiety School of Acting in Dublin. All of the ...

May 6, 2023

War of the Worlds: The Panic Broadcast Cast Calle Bisaillon– Jake Laurents, Orson Welles, Narrator, & Professor Pierson Cicely Richardson– Freddie Filmore Daniel Sleeper– Dan Seymour, Carl Phillips, Secretary of the Interior, Father, & The Boston Globe Newsboy Sorchae McMeel– Lana Sherwood, Ora Nichols, 22nd Field Artillery Officer, Wife, Sylvia Homes, & Jingle Quartet Singer Michael Aviles Bramer– Howard Koch, ...

April 26, 2023

All Theatre Majors! Please sign up for an end-of-year jury. Juries are short sessions where each major demonstrates some of the work or skills they have accumulated at this point in their time at PSU. We will give feedback and discuss progress and plans for each student as a part ...

April 18, 2023

Fall 2023 Auditions for War of the Worlds: The Panic Broadcast & Godspell May 2-May 4, 2023. All auditions and callbacks are taking place in the Smith Recital Hall Instructions: Please sign up for one five-minute audition slot on the 'sign-ups' tab on the callboard and fill out the audition form linked below by noon on Tuesday, May 2. There will be a ...

April 11, 2023

War of the Worlds: The Panic Broadcast adapted by Joe Landry Directed by Jessie ChapmanOctober 12 – 14, 2023 • Hanaway TheatreAn alien invasion throws humanity into chaos in the classic sci-fi novel The War of the Worlds–but all it took to cause real-life panic in the streets was Orson Welles's 1938 radio adaptation, which listeners took ...
Read more